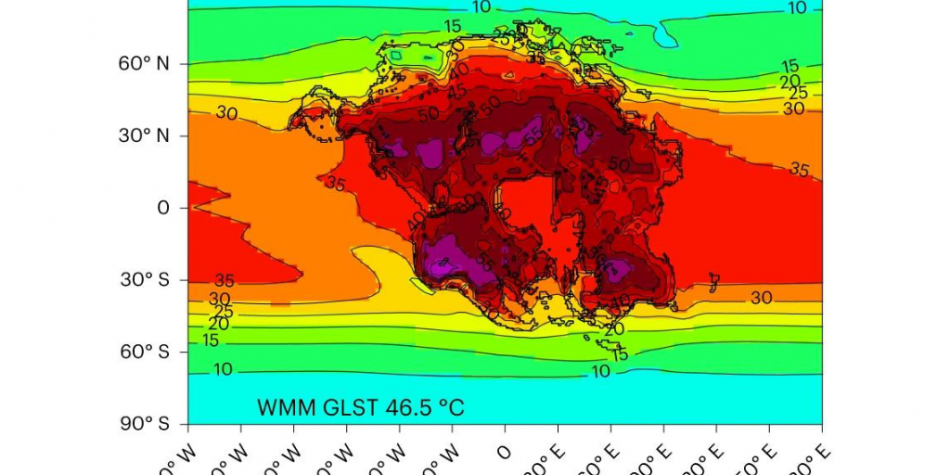 The "hellish heat", with temperatures reaching 70 degrees Celsius, could be the cause of human genocide on the planet, according to a study conducted by British and Swiss scientists from the University of Bristol in England. The perspective is that this will be the future of Earth in 250 million years.
Projection published in Scientific journal NatureLast Monday (25) indicates a temperature rise of up to 30 degrees Celsius above the current maximum, which could cause the extermination of humans and practically the entire class of mammals – and the last similar extermination on record occurred with dinosaurs.
This process must occur in the long term after the emergence of a new "supercontinent", Pangea or Pangea Ultima. The researchers claim that this phenomenon occurs as extreme weather events intensify, causing the continents to join, creating a much larger and potentially "uninhabitable" area – a supercontinent.
In the future, according to the research, several points on Earth will likely record temperatures up to 40 ° C and even 70 ° C, and after the emergence of the supercontinent, only 8% to 16% of the planet will be habitable.
Climate change is contributing to "hellish heat" and extreme cold
The first signs of imbalance in the environment have already been observed through drastic changes in temperature, in addition to the intensification of natural phenomena.
For example, Santa Catarina experiences spring with lower temperatures. a Civil Defense It warns of heavy rain, scattered thunderstorms, wind gusts, and even hail, on Saturday (30) and Sunday (1).
In fact, one of the reasons for the low temperatures recorded across the state is the condition caused by the passage of an extratropical cyclone on the Santa Catarina coast.
The action of the El Niño weather phenomenon also affects weather instability and increased precipitation.
October is expected to have major impacts on the state, as storms tend to become more frequent in the center and south of the country, according to a warning from Met Sul Meteorologia.
"Web geek. Wannabe thinker. Reader. Freelance travel evangelist. Pop culture aficionado. Certified music scholar."