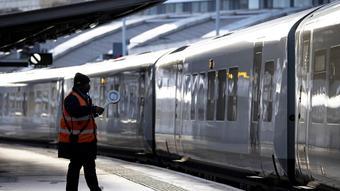 UK roads, trains and air transport will be affected by multiple strikes over the year-end holidays, which will complicate family gatherings and holidays for Britons and tourists after two years of the pandemic.
The Civil Servants Union PCS, which is leading a series of measures in various fields of public administration, announced on Friday (2) that road workers will strike between December 16 and January 7.
The union claims that traffic may be "paralyzed" by the protests.
"We know that the actions of our members may disturb travelers who want to visit family members during the festive period, but are forced to do so by a government that does not listen to its workforce," the association denounced in a statement.
"Given the severe cost of living crisis, they deserve to be adequately compensated for the important work they do to keep our roads safe," he added.
The CSO is also expected to announce new dates for strikes in other ministries, including the Interior Ministry, in the coming weeks.
At the same time, railway strikes organized by various unions for months to demand wage increases in line with high inflation will continue throughout December, and security guards on the Eurostar train, which connects London to the European continent, have also called for several days. from strike.
Finally, 350 third-party baggage handlers at Heathrow, one of Europe's largest airports, are also planning to call a 72-hour strike, starting December 16.
For months, the United Kingdom has suffered several strikes in several sectors of the economy, chief among them logistics and the post office, in the face of 11% inflation and a sharp decline in the cost of living.

More than 4,200 doctors have lost work in the UK after Brexit
"Lifelong web fan. Incurable internet junkie. Avid bacon guru. Social media geek. Reader. Freelance food scholar."