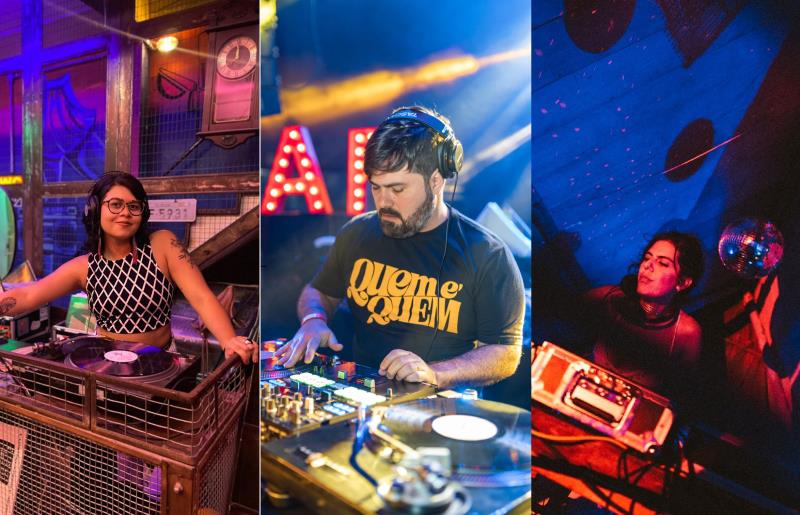 vinyl night
Night brings Mary G and Bernardo Pinheiro, plus Bixo Selecta, Nat/Esquema and Sonoro Paraense
The Meta/Esquema party heats up the dance floor, this Friday (6), with a special edition of Círio, at the Castanho Club, in Belém. The dance combines the barra scene that emerges in nightclubs, and brings in guest Mari J, from São Paulo, one of the great DJs working today in Brazil. From world music to para music, and all the way to the sound of vinyl, the evening also features a set by Bernardo Pinheiro, Bixo Selecta, Nat/Esquema and Sonoro Barenci. Advance tickets are on sale Through Cymbla And on the photo [email protected].
Mary J and Bernardo Pinheiro are coming straight from São Paulo. Performing at events in New York, the UK, Berlin and Barcelona, ​​Mary J explores styles ranging from samba to soul, jazz, rap and 70s funk. She is a record collector, researcher and music producer, and also one of the creators of the Mistérios da Meia Noite project, where she brings a more sensitive and less ordinary world to DJing. He has opened shows for big names in music like Marcos Valle, Hermeto Pascual, and Gilberto Gil, and has performed all over Brazil at festivals like Coala (SP), Universo Paralelo (BA), Virada Culture (SP), Vai Tapajós (PA), Sarava Festival (SC) and Virada dos Lençóis (MA).
With 20 years on the dance floor, Bernardo Pinheiro is one of the most daring and versatile artists of his generation, showing all his creativity in musical interventions on the funk and disco circuit in Brazil. SP-based DJ from Pará brings a tropical feel guided by rhythmic atmospheres and energizing grooves, from Baile Tropical, a project he created with Patricktør4 to promote the Brazilian pluralism that fuels his musical repertoire, to his interventions in classics by his compatriots such as Fava de Belém, Leila Pinheiro and others. For famous interpreters of Brazilian music such as Djavan, Emilio Santiago, Marcos Valle and Gonzaguinha, the basic motivation is the same: to work on this sumptuous raw material in every possible way.
The Sonoro Barenci project – led by American Darren Lamin, professor of ethnomusicology at the University of Wisconsin, and music scholar Milton Almeida Jr. from Belem – is setting the dance floor on fire with a set that is the result of 15 years of research into sound system parties, and all the Caribbean influences of merengue, salsa and zouk flowing into Technobriga.
Bruce Moraes, DJ Bixo Selecta, has been a vinyl record collector since 2010 and has always focused his collection on Brazilian music. The gems mined over these thirteen years range from carimbo to country rap, ranging from mangobeat, samba, maracato, funk, boogie, raggae and all Brazilian entanglements.
"In addition, we will have resident DJs who will always prepare a little surprise during the editions. We will also achieve artistic multilingualism: there will be art exhibitions and art shows. We are very happy with this edition and it will be a very interesting experience," says Nat/Esquema, creator of the project. ".
Vinyl culture
Meta/Esquema Concert was born in 2021, dedicated to Brazilian music on vinyl. The success of the debut led to the project gaining new releases, turning it into a movement to promote record culture and expand the scene of DJs, researchers and music collectors in the city.
"We started mapping people who were interested in the scene. We started promoting training workshops for new DJs, especially for women, because we believe in the importance of a female presence in these spaces that are generally occupied by men. We charted a path to understanding who these vinyl collectors are, so that we too could Bringing them to the theater, understanding what this organization is, and getting it out there so people understand there's a space in the city for those who "consume vinyl culture," Nat says.
service:
Special edition of Círio at the Meta/Esquema concert, Friday, 6, from 9 pm, at the Castanho Club (Av. Conselheiro Furtado, 2862 – Cremação). Advance tickets are on sale through Sympla (https://www.sympla.com.br/evento/meta-esquema-edicao-especial-de-cirio/2157999) And on the photo [email protected].
"Friendly zombie guru. Avid pop culture scholar. Freelance travel geek. Wannabe troublemaker. Coffee specialist."