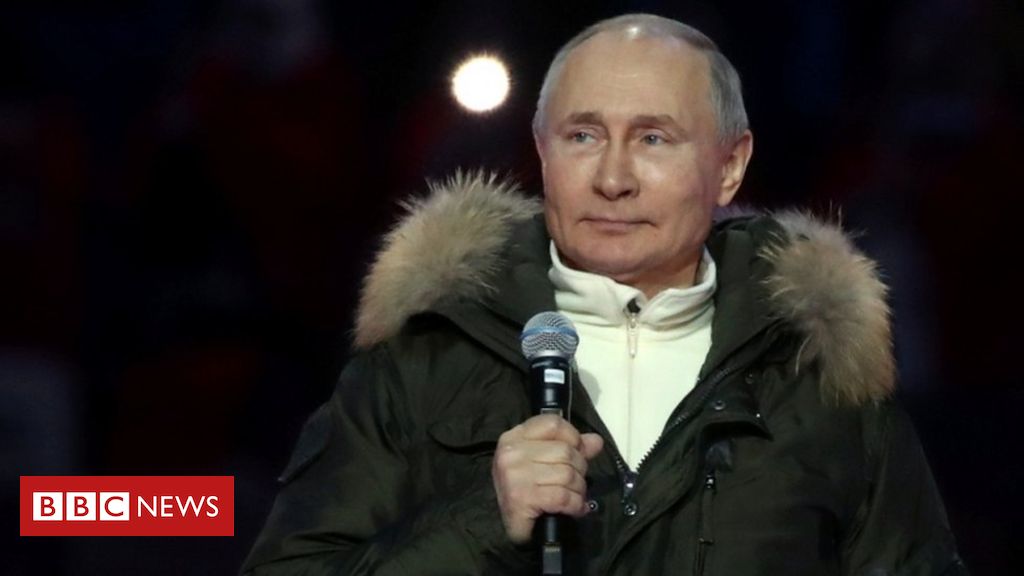 Sarah Rainford
BBC News in Moscow
It was impossible to ignore the course of events: thousands of Russian troops were deployed near the border with Ukraine. At the same time, a group of US warships was reported to be heading to the Black Sea, and the Russian Foreign Ministry warned them to stay away "for their own good."
As hostile rhetoric and military moves intensified in Ukraine, Western politicians began to fear an open invasion of Russia, and urged Russian President Vladimir Putin to "de-escalate."
Russia refused: The Defense Ministry insisted this week that its actions were in response to NATO "threatening" maneuvers in Europe.
Then Putin received a phone call from the White House.
Biden blinked first.
Journalist Konstantin Egert argues in the US president's appeal to the Kremlin, in which he suggested meeting Putin "in the coming months": "In Putin's risky game, Biden blinked first."
This came just weeks after the US president announced in an interview that the Russian president was a "murderer."
President Biden's decision is now being analyzed: Maybe he did it to avert disaster, or maybe it was a wrong concession. The fact is that such an appeal reduces the risk of major Russian military action.
"It wouldn't be worth the politician: It would be a slap in the face for Biden," Egert told the BBC.
"But the fact that Biden was the one who suggested they meet gives Putin an advantage," he added.
Determined to send signals in place of the soldiers
Certainly, Russian state television thinks so.
Moscow's show of strength was praised by political presenters and guests, ensuring that his country has withstood the hostility of the United States and NATO.
One commentator even noted that "President Biden's nerves have failed."
Senator Konstantin Kosachev was widely quoted as saying that Washington had realized that "it is impossible to achieve a military advantage over Russia" and that the two countries needed to return to dialogue.
The recent Russian troop movement seemed to be the rhetoric of a country that had abandoned its desire to be loved and now wanted the West to engage with it.
When Vladimir Putin sent troops and equipment to eastern Ukraine seven years ago, he did so through covert operations that he still denies.
This time, however, Russia appears more determined to send signals rather than deploy soldiers.
The Director General of the Russian International Affairs Council, Andrei Kortonov, refers to the recent reinforcements that Kiev has made in eastern Ukraine, and argues that Russia's actions are aimed at preventing any movement aimed at retaking the areas controlled by armed separatists supported by Russia.
A senior Kremlin official warned that such a military action would be "the beginning of the end for Ukraine", whose government will consist of children "playing matches."
At the moment, Russia has an excuse to step in: About half a million people in the "People's Republics" of Donetsk and Lugansk, eastern Ukraine, have acquired Russian passports since the fighting began in 2014.
"I think it will be difficult for the Kremlin not to come to the aid of these 'republics' if they face the risk of a major defeat," Kortonov explains, noting that the Ukrainian army is now better equipped and trained thanks to the support of the United States and the United States. Europe.
But he still doubts whether Vladimir Putin is planning to intervene.
"I see nothing the Kremlin can gain from direct military participation in the Ukrainian crisis. I think Russian policy is focused more on preserving the status quo and assuming that Ukraine will collapse from within with its growing problems and the Ukrainian fatigue in the West," Kortonov continues.
Letter to Washington
The other audience of the Moscow maneuvers is very far away.
For the United States, there is a less clear warning that Russia still believes the fate of its neighbor is its problem and is particularly against Ukraine's goal, which was underscored this week, to join NATO.
But some are discovering another goal: trying to avoid more harsh sanctions from the Biden government in response to Russian election interference, pirate attacks, and more.
"Russia is trying to raise the bar and show that it can create costs for those trying to impose costs on Russia, even if it is reckless and can lead to tougher sanctions," explains foreign policy analyst Mikhail Troitsky.
He adds, "I think this is the logic behind this escalation, and it is dangerous because at some point it could get out of control."
Climbing and de-escalation
Despite new talks broadcast on Russian state television about Ukrainian "fascists", there is no feeling that all-out war is popular among Russians dealing with COVID-19, other than sanctions and shocks from low oil prices.
Andrei Kortonov believes that the "mobilization potential" of foreign policy adventures is now "almost exhausted", with people paying more attention to their problems than they did in 2014, when there was a more comfortable context.
Even so, everyone knows how fast clashes can escalate. The annexation of Crimea in 2014 is evidence of this. At that time, no one believed that Vladimir Putin would dare annex her. Another example is Russia's war with Georgia in 2008, when the Kremlin reacted swiftly to long-standing tensions with that country.
Putin's intentions may become clear next week when he delivers his annual State of the Nation Address – a platform he often uses to speak out against the West.
But Joe Biden's invitation may have given him a chance to abandon that very battle.
"I think Putin has put himself in the spotlight not only in Europe, but in the US government," says journalist Egert. "He managed to scare them, and he likes to do that."
About analyst Mikhail Troitsky Konkorda.
It is estimated that "if Russia does not see major US sanctions affecting its vital interests, it should consider withdrawing its forces from the borders."
"Another way to slow things down is to reach a climax, as happened in the Cuban Missile Crisis. But that would be very undesirable."
You have already watched our new videos on Youtube? Subscribe to our channel!
"Proud explorer. Freelance social media expert. Problem solver. Gamer."