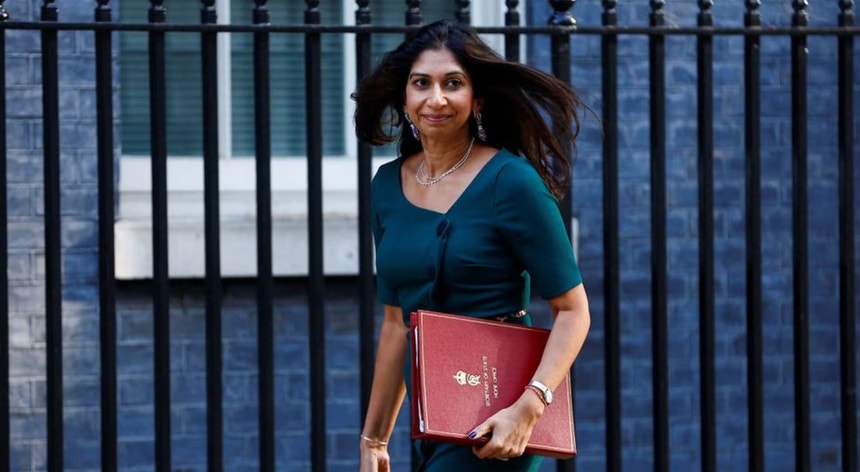 argued the British Home Secretary Illegal migration is a "persistent and structural" problem, which is why it is necessary to "act to prevent it from getting worse in the coming years".
Lack of control over borders will cost "people's consent" and become "unsustainable".

Braverman expressed his concern about the lack of integration and said multiculturalism has "failed" as a result of the "excessive" and "too fast" influx of refugees to Europe and the UK. He argued that "if cultural change is too rapid and too great, what was already there will be diluted" and "disappear".

British Home Secretary Rishi Sunak has set out his government's position on how to deal with the global refugee crisis in an effort to stop small boats coming to the UK through the English Channel.
Despite the British Prime Minister's promise to "stop the boats" from France, almost 24,000 people have been found crossing the canal since the start of the year.
Currently, In the United Kingdom, the law prohibits refugees who come to the country illegally from seeking asylum and being deported to safe countries such as Rwanda.Under the Geneva Convention on Refugees, ratified in 1951, a move that has been blocked by courts and strongly criticized by human rights groups was approved by Great Britain.

The "status quo" is "absurd and unsustainable".
about this, Braverman called for a debate on reforming the United Nations Refugee Convention, saying the rules for applying for asylum are "not up to date" and the world is stuck with "outdated legal models".


The Geneva Convention Relating to the Status of Refugees is the legal basis for the protection of refugees worldwide. , Rwanda etc. Under the Convention, states must protect civilians fleeing conflict or persecution."People can travel to many safe countries and live in safe countries for years while choosing their preferred destination to seek asylum is absurd and unsustainable," said Suella Braverman.




Braverman argued that asylum seekers must submit an asylum claim in the first safe country they reach, and that "being gay or female and fearing discrimination in your home country is not enough to benefit from protection."
"We have created an almost infinite supply system, encouraging millions of people to try their luck, knowing full well that we have no capacity to satisfy more than a fraction of the demand," he argued.
In his speech in Washington this Tuesday, the British Home Secretary considered this The reform of the Convention may be considered "racist", but it is fundamental to solving the problem of illegal migration, which requires international cooperation, insisting that "countries cannot simply stand idly by".


w/agencies


"Reader. Infuriatingly humble travel enthusiast. Extreme food scholar. Writer. Communicator."