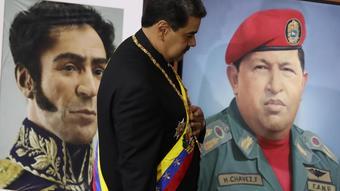 The United States has responded to Venezuela's President, Nicolás Maduro, who will keep the policy of sanctions against the South American country "intact" until concrete steps are taken for a "return to democracy."
"As long as Maduro and his cronies continue to oppress the Venezuelan people and divert resources into corrupt practices, we will continue to pressure the regime with sanctions," a US State Department spokesperson told EFE on Monday (16).
Last Thursday (12), Maduro asked US President Joe Biden to lift "all sanctions" applied to VenezuelaWhich, according to him, is "criminal".
In response, a US State Department spokesperson urged Maduro to sit down with the opposition United Platform to "solve Venezuela's problems and restore democracy and the rule of law" in the country.
He stressed that "our policy of sanctions against Venezuela remains in place. We will continue to impose sanctions on Venezuela to support the return to democracy."
Last week, Maduro said that "imperialism and its weak and extremist henchmen have stolen $411 million from Venezuela every day" over the past eight years, calling it "criminal theft."
The Biden administration has conditioned sanctions relief on agreements Maduro is making with the opposition in the ongoing negotiations in Mexico City. The United States failed to recognize the interim leadership of the opposition two weeks ago. Juan Guaido In Venezuela, but they also do not recognize the legitimacy of the Maduro government.
"Proud explorer. Freelance social media expert. Problem solver. Gamer."