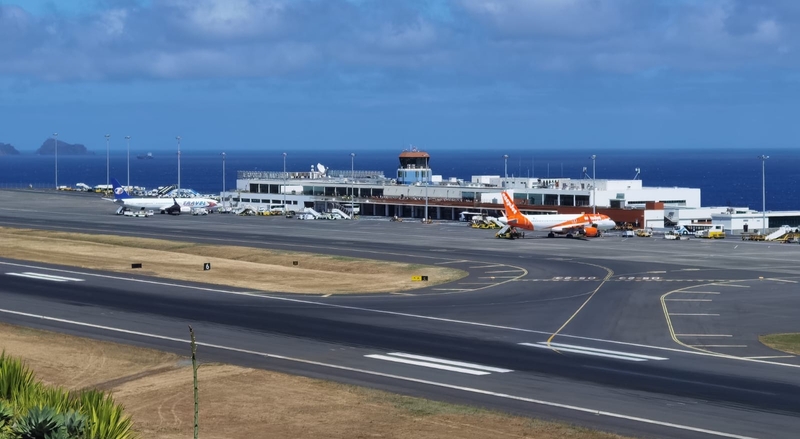 In the first eight months of 2023, the annual variations in aircraft and passenger movements amounted to +14.9% and +22.6%, respectively.
Each plane (considering the planes that landed and took off together) was carrying, on average, about 153 passengers (151 in August 2022), at Madeira Airport, while at Porto Santo this number reached 109 passengers (112 in the same month).
Passengers were disembarked at the new RAM PT airports
In August 2023, domestic and international passenger traffic at Royal Air Maroc airports recorded a positive year-on-year variation in international traffic (+9.1%) and an equally positive, but lower, expression in the domestic sector (+0.9%). Compared to the same period before the pandemic (2019), there was growth in both sectors: domestic traffic grew by 44.7% and international traffic by 33.6%.
At Madeira Airport, international traffic dominated (54.1% of the total) compared to local traffic (45.9%). At Porto Santo Airport, there was a dominance of domestic traffic (82.7% of the total), but with a greater disproportionality compared to July.
In this reference month, scheduled flights at Royal Air Maroc airports represented 91.7% of the total aircraft handled and 93.3% of the total passenger traffic (91.4% and 92.7% in the same period last year, respectively).
In August 2023, the occupancy rate of aircraft handled at Royal Air Maroc airports was approximately 91.4%, with Madeira Airport reaching 92.0% and Porto Santo Airport reaching 84.2%. In the same period last year, occupancy rates were lower, at 88.4%, 89.0%, and 82.1%, in the same order.
From January to August 2023, the number of passengers who boarded and disembarked at Royal Air Maroc airports amounted to 3,249.0 thousand passengers, half of whom corresponded to traffic exclusively between airports located on the national territory, which includes domestic and local flights (47.8% of the total as a whole). ) and the other international. (52.2%). Within the latter, the United Kingdom was the country of origin and main destination for international flights from Royal Air Maroc airports (32.9% of the total), followed by Germany (20.1%) and France (8.9%).
"Friendly zombie guru. Avid pop culture scholar. Freelance travel geek. Wannabe troublemaker. Coffee specialist."