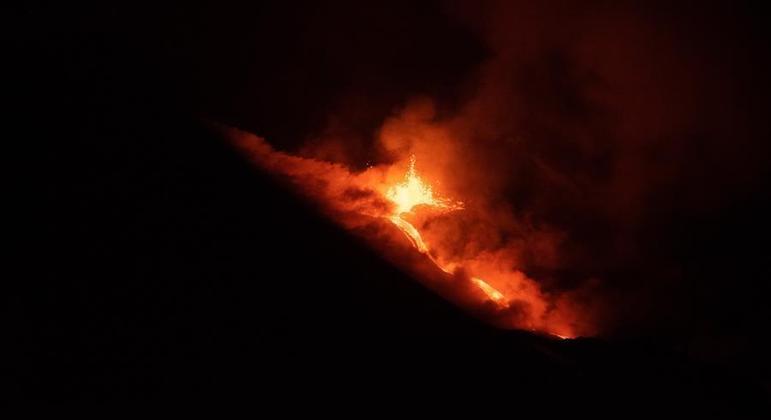 The Cumbre Vieja volcano on the island of La Palma, Spain, on Thursday (25th) witnessed a new lava flow that reached a cemetery and a solar photovoltaic power plant. The volcanic activity began more than two months ago, on September 19.
The molten rock river appeared early in the morning and descended parallel to the recorded tenth flow, heading towards an area with some already uninhabited homes and farms, explained Miguel Angel Morquinde, Technical Director of the Special Plan for Volcanic Hazard Protection. Canary Islands (Pevolka).
The new lava river, according to the expert, is said to be "bad news" because it reaches previously unaffected areas and "destroys everything in its path", despite the recent decrease in its speed.
Researchers and technicians are observing the flow that began today and will meet to analyze the path.
In addition, an increase in the rate of lava emission was observed, with greater branching of the channels, according to Morquinde.
As for seismic activity, today's largest earthquake was recorded at 3.9 on the Richter scale, at a depth of 11 kilometers.
Tremors continue to occur at low levels, and there are no signs of major ground deformations.
The rate of carbon dioxide emission associated with the eruption remains high, at 30,000 tons per day, although the downward trend continued on September 23 of this year, four days after the start of activity.
In the past 24 hours, a large amount of gases have been detected in the air in the areas of Las Manchas and La Bombilla, in the exclusion zone that has been created around Cumber Vieja. In the rest of the island of La Palma, the situation is considered good or reasonably good.
According to the latest update, 1,484 buildings have already been affected by lava from the volcano, of which 1,195 are for residential use, 160 are for agricultural use and 67 are for industrial use.
In all, 340.59 hectares of different types of crops were affected.
"Proud explorer. Freelance social media expert. Problem solver. Gamer."