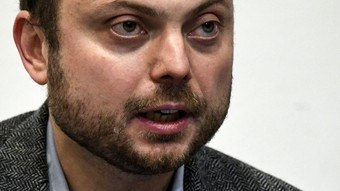 Russian dissident Vladimir Kara-Murza, sentenced to 25 years in prison for "treason" for condemning Moscow's attack on Ukraine, has arrived at the high-security Omsk penal colony in Siberia to serve his sentence, his lawyer told Sunday. (24).
Kara-Murza, a major critic of President Vladimir Putin and who holds dual Russian and British citizenship, was sentenced in April to an unprecedented sentence, prompting international leaders and his supporters to demand his release.
"Vladimir Kara-Murza has been transferred to the high-security penal colony IK-6 in Omsk to serve his sentence," his lawyer Vadim Prokhorov said on Facebook.
He added: "He was immediately transferred to a solitary confinement cell."
Omsk is located about 2,700 kilometers east of Moscow. The Russian penal system often takes weeks to transfer prisoners to the most remote prisons in the country. Often, the whereabouts of a passing prisoner are unknown, and they stop at several prisons along the way.
The lawyer warned that imprisoning Kara Murza (42 years old) in this type of cell would endanger his fragile health. The opponent's lawyers and his family claim that he suffers from a nervous disease called neuropathy, due to the two attempts to poison him.
Kara-Murza was convicted of spreading "false information" about the Russian army and its association with an "undesirable organization." The trial was behind closed doors.
"Proud explorer. Freelance social media expert. Problem solver. Gamer."