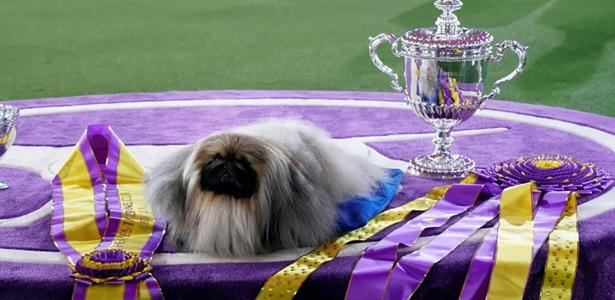 It's a Bikini and its name is Wasabi: This fur ball won Best in Show at the Sunday Night Westminster Dog Show, the popular New York dog beauty pageant, which this year moved to rural Tarrytown due to the pandemic.
After a year of suspension due to the coronavirus, the event, in its 145th edition, has been postponed from February to June. For the first time it was transported from the heart of New York City to Tarrytown, an hour north of the Big Apple.
The competition was held without spectators, but the passion for the traditional event and its stars – dogs – is still alive.
The three-year-old wasabi was chosen as the winner from a group of seven finalists including French Bulldog Matthew, English Shepherd Connor, Samoyed Striker (sled dogs), and the boy, a West Highland white terrier.
The Bourbon Greyhound finished second.
The day before winning the final, owner and coach David Fitzpatrick — who had already won Best in Show in 2012 with another Bikini — celebrated his dog's "charisma, movement, and play."
"He's at his best and looks amazing," he proudly added to ABC.
The event, an annual celebration of purebred dogs of all sizes, shapes and coats, has gathered more than 2,000 candidates from more than 200 breeds.
Dogs are judged based on their representation of their breed characteristics as defined by the American Kennel Club.
Animals are judged not only by how they move, but also by their facial expressions, whether they are alert or cheerful.
"Proud explorer. Freelance social media expert. Problem solver. Gamer."