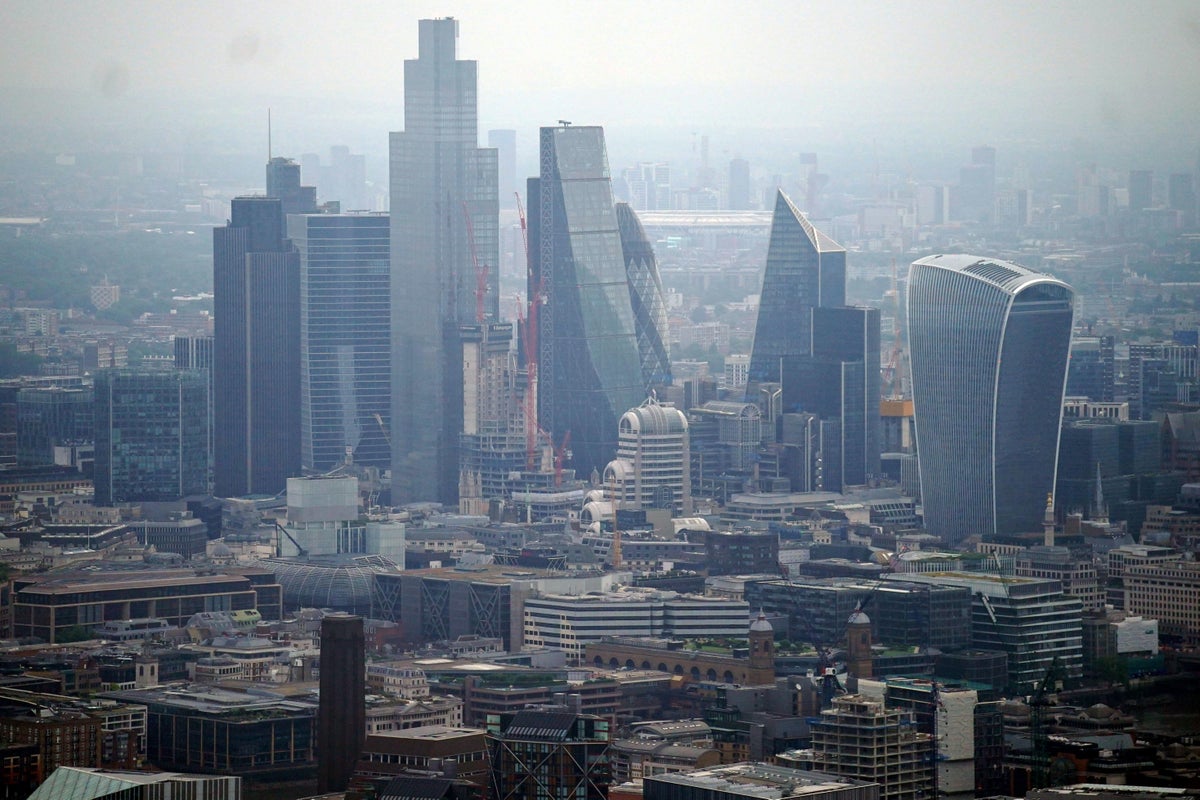 Nearly one in four UK chief executives believe their current business model will not be viable in 10 years' time, according to a comprehensive annual survey published at the World Economic Forum in Davos.
However, the 22 per cent of UK executives who expected to be forced to change course as a result is far below the global figure of 39 per cent who felt their business models would not be viable by 2033, according to the PwC survey. for accounting.
Britain's business chiefs were similarly upbeat about their companies' prospects for the coming year, compared to their generally dismal outlook for the global economy.
Only 21 per cent said they expected the economy to improve over the next 12 months – but nearly half of those surveyed said they were nonetheless "very or very confident" about their business revenue outlook over that period.
The results — from a PwC survey of nearly 4,500 chief executives in 105 countries — represent a huge drop from the 86% of UK executives who expected the global economy to improve a year ago.
Those in senior jobs elsewhere in the world are more pessimistic, with 73% expecting global growth to slow this year, the bleakest forecast since PricewaterhouseCoopers first asked the question 12 years ago.
Global CEOs seem to share a belief in the UK's growth prospects, as the FTSE 100 Index approached an all-time high on Monday, with Britain now considered the third most important growth country among global CEOs, after Germany, and only behind the United States. . and China, PricewaterhouseCoopers found.
But as many as one in 10 UK executives believe they have just three years to make the changes needed to keep their business economically viable, with 40% acknowledging that their company's technological capabilities do not meet the requirements of their strategic objectives.
As a result of these turbulent circumstances, only six in ten UK CEOs said they would not implement layoffs, while 86% pledged not to cut staff salaries.
The vast majority of UK executives said they are automating processes and systems and empowering their company's workforce in priority areas – meaning all but 4% said they were unsure about their revenue growth prospects in the next three years.
Big Four president Kevin Ellis said PwC's findings showed "enormous" changes to business this decade, such as the shift to hybrid work, were just the "tip of the iceberg", with "fundamental changes" to come. .
He warned that the huge challenges facing companies – from decades of high inflation to skills shortages – "can be overwhelming".
"Companies have really gone through big changes this decade, with hybrid work and cloud computing among the big changes," said El-Sayed. Ellis. But this is the tip of the iceberg – many CEOs believe their current business models are unsustainable and that means more change to come.
"It is not about adjustment, but fundamental changes that require huge investments in people, skills and technology. It is positive that companies focus on making the necessary changes despite the challenges, including inflation and skill shortages, which can be overwhelming."
A report from the World Economic Forum last week warned that while climate collapse is the biggest long-term challenge facing the global economy, it is the one it is least prepared to face because of the short-term problems fueled by the cost-of-living crisis.
Similarly, PricewaterhouseCoopers found that more than a quarter of UK CEOs fear they will be moderately or severely exposed to climate threats in the next 12 months – but less than a third have implemented measurable, data-driven strategies to reduce emissions and mitigate climate risks.
"Friendly zombie guru. Avid pop culture scholar. Freelance travel geek. Wannabe troublemaker. Coffee specialist."