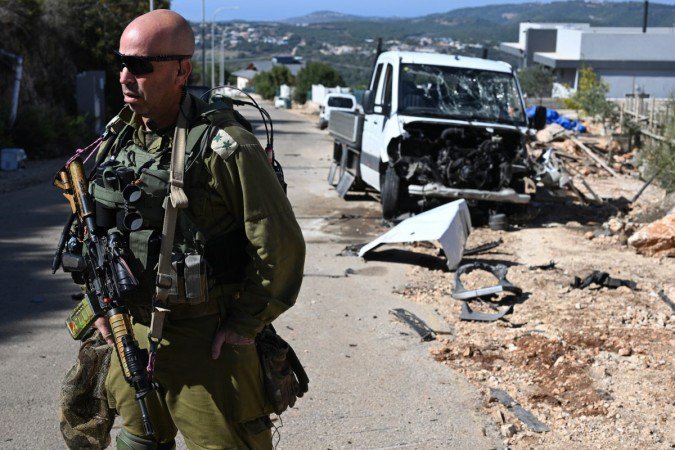 The Israeli army began a military operation on Saturday morning (10/21) in the West Bank, where Saleh Al-Arouri, the second-in-command in Hamas after leader Ismail Haniyeh, lives. The Israeli military forces confirmed in a statement the operation in Aroura, 180 kilometers from Jerusalem. Dozens of people were interrogated, according to eyewitnesses consulted by the Commission France Press agency.
The Israeli army claims that twenty members of the Hamas movement were arrested during the operation in which the internal security service participated in the city. Among the detainees are members of the family of Ismail Haniyeh, whom the Israelis accuse of leading several attacks. He remained in prison for 20 years until he was released to go into exile in Lebanon.
Israeli army spokesman Daniel Hagari announced that Israel is preparing to carry out more attacks on the Gaza Strip. He added: "From today onwards, we will intensify the bombing." Also according to the IDF, the country's military forces will invest in new strategies for the conflict, which may include ground attacks.
"Israel, which colonized Palestine, wants to kill and oppress all Palestinians. He wants to steal all our lands. "It will attack us, regardless of whether the Palestinian resistance is violent or peaceful," said Ahmed Shehadeh, head of the Brazilian-Palestinian Institute. mail.
Humanitarian assistance
On Saturday, Gaza received its first humanitarian aid convoy. Twenty trucks entered the area from Egypt through the Rafah crossing, which is the only crossing not controlled by Israel.
"There is a possibility that more aid will arrive in Gaza tomorrow," said Martin Griffiths, UN humanitarian coordinator, noting that the resources sent so far are insufficient to treat the wounded.
In total, 4,385 people were killed and 1,756 injured in the Palestinian territories as a result of the conflict, according to the Gaza Ministry of Health.
Did you like the article? Choose how to follow key news from Correio:
Give your opinion! Correio has space in the print edition to publish readers' opinions via email at [email protected]
"Proud explorer. Freelance social media expert. Problem solver. Gamer."