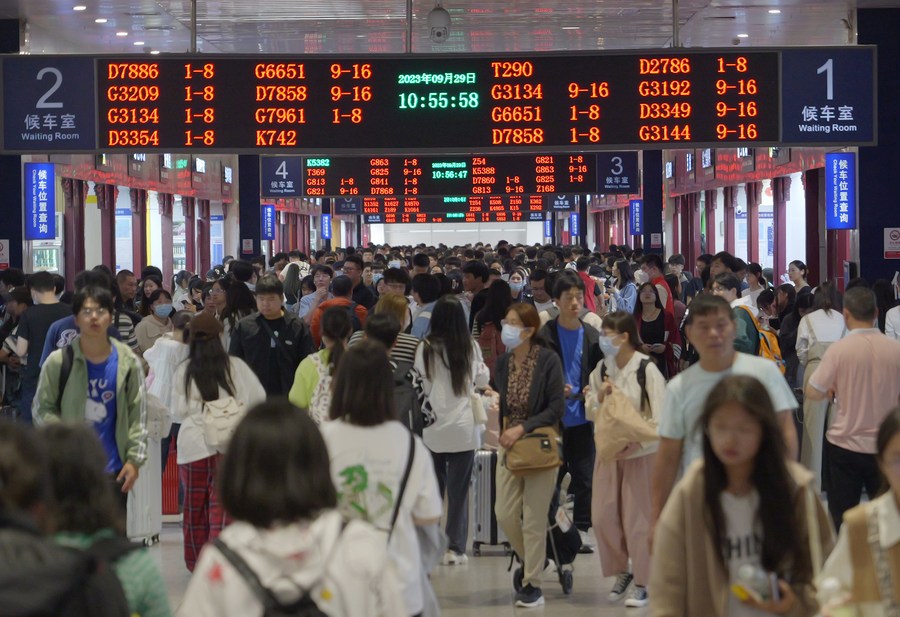 The combination of two holidays, the Moon Festival and National Day, led to the formation of an eight-day extended holiday, called Golden Week. The long national holiday has led to a travel boom in the country and caught the attention of various media outlets around the world.
Reuters noted that with the stability of the Chinese economy, consumer spending during the Moon Festival and National Day in 2023 has aroused interest among economists. Data show that on September 29, China National Railway sent more than 20 million passengers, a single-day record, and the "most popular Golden Week in history" is expected to get off to a good start.
CNN also noted that many Chinese tourists have chosen to travel abroad. Citing data from travel site Trip.com, the report noted that Thailand is expected to be the top destination for Chinese travellers, followed by South Korea, Malaysia, Singapore, Australia and the United Kingdom.
Singaporean newspaper Lianhe Zaobao monitors the influx of tourists to local attractions in Singapore as China kicks off its Golden Week. The increase in the number of Chinese travelers visiting Singapore has not only boosted tourism to local attractions but also stimulated spending in the country.
When a Lianhe Zaobao reporter visited Marina Bay Sands Shopping Center and Gardens by the Bay on October 1, he was informed that there was a significant increase in traffic during the long holiday period, which in turn led to increased sales. Workers at the Marina Bay Sands shopping center in Singapore said that the number of Chinese tourists has almost doubled over the past two days. Another employee added that the store is dominated by Chinese tourists, who make up 60% of customers.
On the other hand, US Consumer and Business News Channel (CNBC) reported that there has already been an increase in Chinese travel abroad in the run-up to the very long Golden Week holiday. Data indicate that bookings for popular foreign destinations such as Singapore, Australia and Thailand increased by about 20 times compared to the same period in 2022. Bookings for destinations such as Sri Lanka and Uzbekistan also increased. CEO of Ctrip He was quoted as saying that travelers are looking for more "unique and immersive travel experiences" than in previous years.
The Financial Times quoted an economist who analyzed that "Golden Week could be one of the busiest holidays ever." Manufacturing has also recovered steadily. The report indicated that the Chinese economy recovered positively in August, and that the Golden Week, which is held against this background, will have a stronger performance.
Source: news.cctv.com
Main photo: Li Jiannan/Xinhua
"Friendly zombie guru. Avid pop culture scholar. Freelance travel geek. Wannabe troublemaker. Coffee specialist."