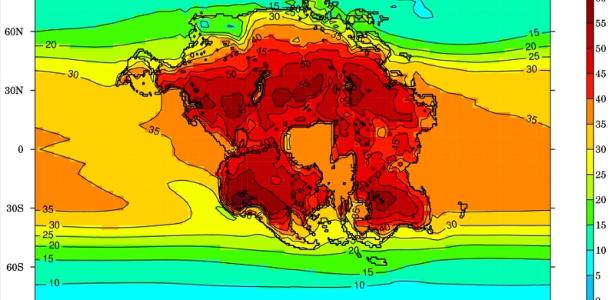 The result is an often hostile environment, devoid of food and water sources for mammals. Widespread temperatures between 40°C and 50°C, and even extreme daily temperatures exacerbated by high humidity levels, will ultimately determine our fate. Humans – along with many other species – will "exhale" due to their inability to lose this heat through sweat, cooling their bodies.
Alexander Farnsworth, lead author of the study, said in a statement from the University of Bristol
According to the researcher, "the prospects for the distant future appear very bleak." Much of the planet "could face temperatures between 40°C and 70°C," he says.
Despite the climate change and extreme events resulting in fatalities that we are already seeing today, research suggests that the planet should remain habitable for a long time until Pangea Ultima forms.
When the supercontinent forms, the study predicts that only 8% to 16% of the Earth will be habitable.
"It is extremely important that we do not lose sight of the current climate crisis we face, which is the result of human emissions of greenhouse gases. While we expect the planet to be uninhabitable in 250 million years, today we are already seeing extreme heat that is harmful to humans," warned Eunice Lu, co-author of the study. , a researcher in the field of climate change and health, stressed the importance of achieving net-zero emissions as quickly as possible. "That is why it is important to achieve net-zero emissions as quickly as possible."
We are the dominant species, but the Earth and its climate decide how long this will last. What will come next no one knows. Dominant genres can be something completely new.
Alexander Farnsworth, study leader, in an interview with The Guardian
"Web geek. Wannabe thinker. Reader. Freelance travel evangelist. Pop culture aficionado. Certified music scholar."