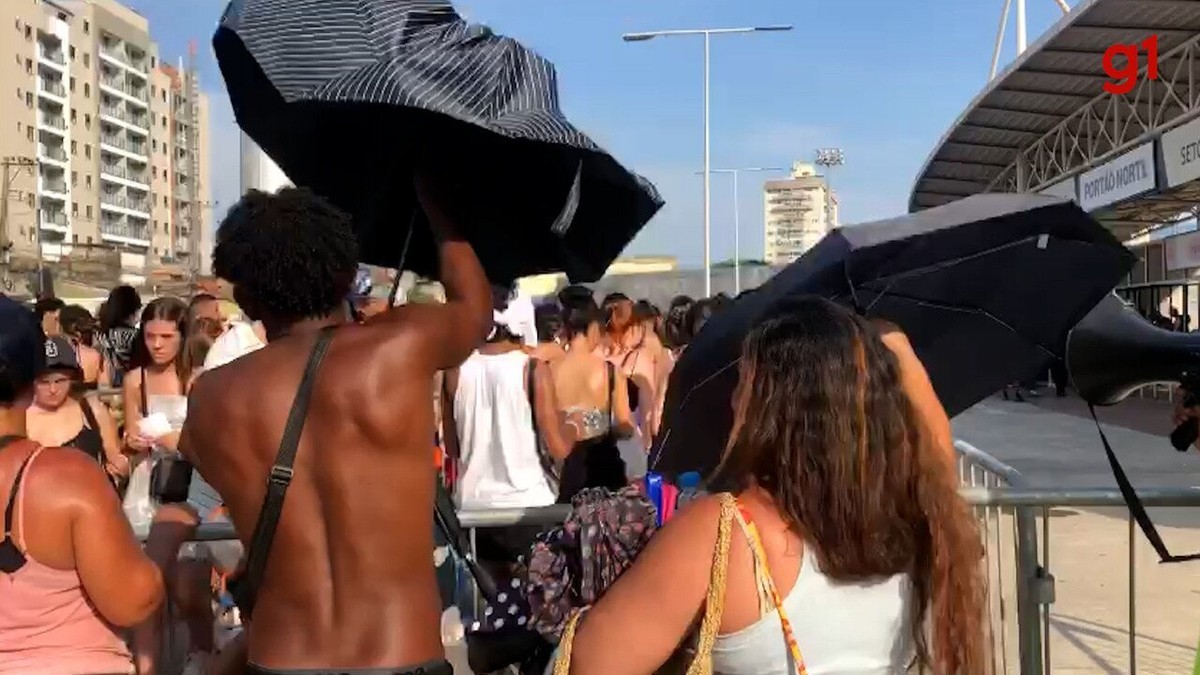 Street vendors 'recycle' banned umbrellas at Taylor Swift concert in Rio
Friday (17), the first day of singer Taylor Swift's concerts in Rio de Janeiro, was marked by extreme temperatures. In the queues, it was common to see crowds of people using umbrellas to protect themselves from the strong sunlight. Since the event does not allow spectators to enter with an umbrella, the accessories end up being "recycled" by vendors.
When asked about today's sales, one salesman said emphatically: "One umbrella investment."
According to the person, who did not want to reveal his identity, small umbrellas were sold for between 30 and 50 reais to the public who wanted to protect themselves. After being banned from Engenhão, many items are left in the trash.
So, when the public comes and gets rid of the accessories, the vendors go there and take back the umbrellas they sold.
The next day, the same items are sold to the audience of the next day's show, and part of the audience complains about the prices. "You didn't feel sorry for us," said a girl in line. A group of street vendors told g1 that they hoped to earn R$2,000 that afternoon.
According to Inmet, at the Galeão and Vila Militar thermal stations, both about 10 kilometers from the Engenhão stadium, the maximum temperature on Friday afternoon was between 36 and 39 degrees Celsius in the area – with air humidity around 40 to 50%, and feeling cold. The temperature ranged from 43°C to 46°C between 12 noon and 3pm.
In turn, street vendors complained about the Municipal Guard inspecting displays in the area. "last week [show do RBD] There were several cowardly scenes from them [prefeitura] With us. They come and get the goods, but there may be a delay later, right? If we were workers who stole, we would be shot and die. "We just want to work," a drinks vendor said.
Asking the public not to leave their umbrellas at this event
Ordering begins in the queue, when vendors remind fans that umbrellas will not be allowed. Therefore, they ask that they be delivered by hand, rather than by event staff, so that the merchandise is not disposed of in the trash.
When the gate opening time approaches, they approach the entrance – in a strategic location, where fans will have to pass.
"Give it to me," "Give it to them," "The umbrella, my friend, and the fan too" are phrases said to persuade the audience.
The items end up being thrown on the ground near the vendors and they collect them. The umbrellas are closed and placed in a bag. Other vendors provide support by removing bags from the area.
In addition to the ingenuity of the vendors, spectators were amazed by the amount of trash found near the queue on the first day of the American singer's shows.
"Award-winning zombie guru. Entrepreneur. Incurable tv aficionado. Web scholar. Coffee advocate. Total internet lover. Bacon expert."