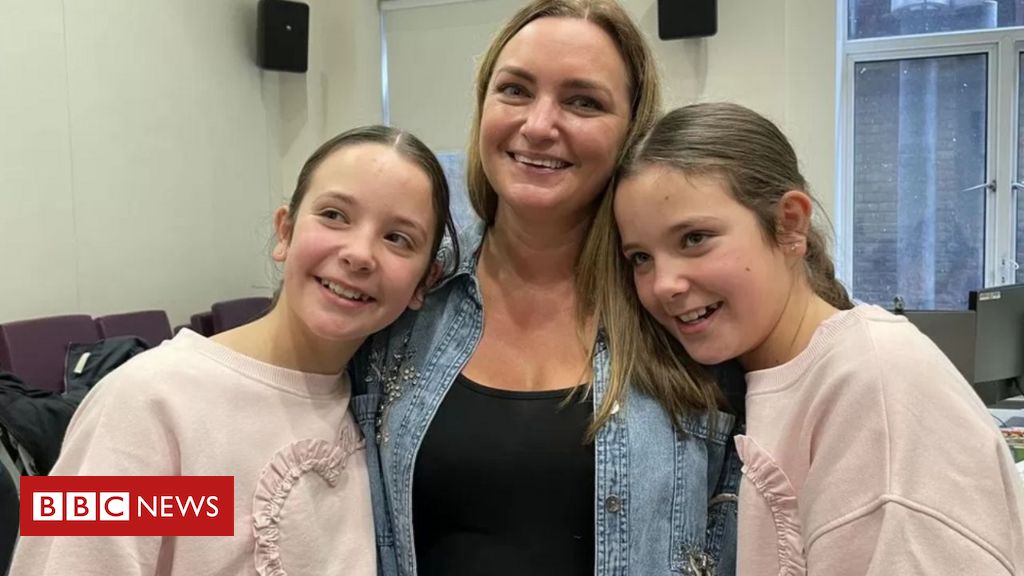 author,

Fergus Walsh

roll,

Medical teacher
Twins Ruby and Rosie are very proud to have been Siamese twins at one point.
An 11-year-old girl from south-east London was born with her intestines and stomach joined just 24 hours after being separated.
They are part of a group of six conjoined twins brought together by London's Great Ormond Street Hospital (GOSH) for a pizza party.
All of them are continuously receiving specialized medical treatment in different areas of the hospital.
Ruby told me, "Of course we fight a lot … but this bond will always make us sisters and love each other forever."
Siamese twins develop when an early embryo partially separates to form two physically conjoined individuals. They are usually attached to the chest, abdomen or pelvis.
It's rare, one in every 500,000 births in the UK, which means, on average, one pair of conjoined twins are born in Britain each year.
Ruby and Rosie have already undergone five surgeries and will face more in the future.
Their mother, Angela Formosa, said, "We were told they wouldn't survive the pregnancy — maybe not even the surgery — and now they're doing well in high school."
He adds: "It's good for them to see other twins who have started life because there are so few."
At the party were brothers Hassan and Hussain, 13, from Cork, Republic of Ireland.
They are born joined at the chest, sharing a pelvis, multiple organs and a pair of legs. After separation, each had a leg.
The boys were separated at GOSH when they were four months old and have since undergone at least 60 operations between them.
They compete in a range of sports, from athletics to wall climbing, and aspire to represent Ireland at the Paralympic Games.
Hassan told me what motivates me: "I wake up every day and do my best, knowing that I can do anything that any other kid can do."
"I like wheelchair basketball because it's fast and you can bump into people," Hussain said.
Their mother Angie Benhaffaf told me, "From the first ultrasound at 12 weeks, they were told there was no hope of survival, but to see them after more than 60 surgeries was incredible. They didn't let who defined them. Them".
"Meeting other children born in unusual circumstances is very important to me and the boys. It is good to know that they are a special group and that they are not alone in the world."
GOSH performed the first successful separation of conjoined twins in 1985, caring for a total of 38 siblings.
Consultant pediatric surgeon Paolo De Coppi believes GOSH has separated more conjoined twins than any other hospital in the world.
He told the BBC: "Section surgery is dangerous and then reconstructive surgeries are needed as children grow, so it's important for parents to know that this is a lifelong journey, not a few months in hospital."
Seven-year-old sisters Maryam and Ndi, from Cardiff, were also happy at the party and were not separated.
Their father, Ibrahima, and the surgical team agreed that it was too risky.
Professor de Coppi explained: "They cannot be separated because they support each other, and if they are separated, one of them will certainly not survive and the other will not."
"These are difficult decisions and we know they are going through difficulties together, but they have a happy life, which we cannot guarantee by separating them."
The twins were brought to the UK from Senegal in 2017 for treatment at GOSH.
The youngest of six pairs of twins, Zion and Zayn, were born in April and separated when they were only a few weeks old.
Issy and Annie, who are 19 months old, split in September last year.
The success of the surgery depends on where the twins join and which organs they share. It also depends on the experience and skill of the surgical team.
Professor de Coppi said: "Teamwork starts before surgery to ensure the right decisions are made, some of which need to be made while we are operating."
"But it's really important after the surgical journey is over—it's really a hospital-wide team effort."
"It's very rewarding for us to bring all the kids together, but also for the families, seeing what other people have gone through — the same hardships, but also the same joy."
"Reader. Infuriatingly humble travel enthusiast. Extreme food scholar. Writer. Communicator."