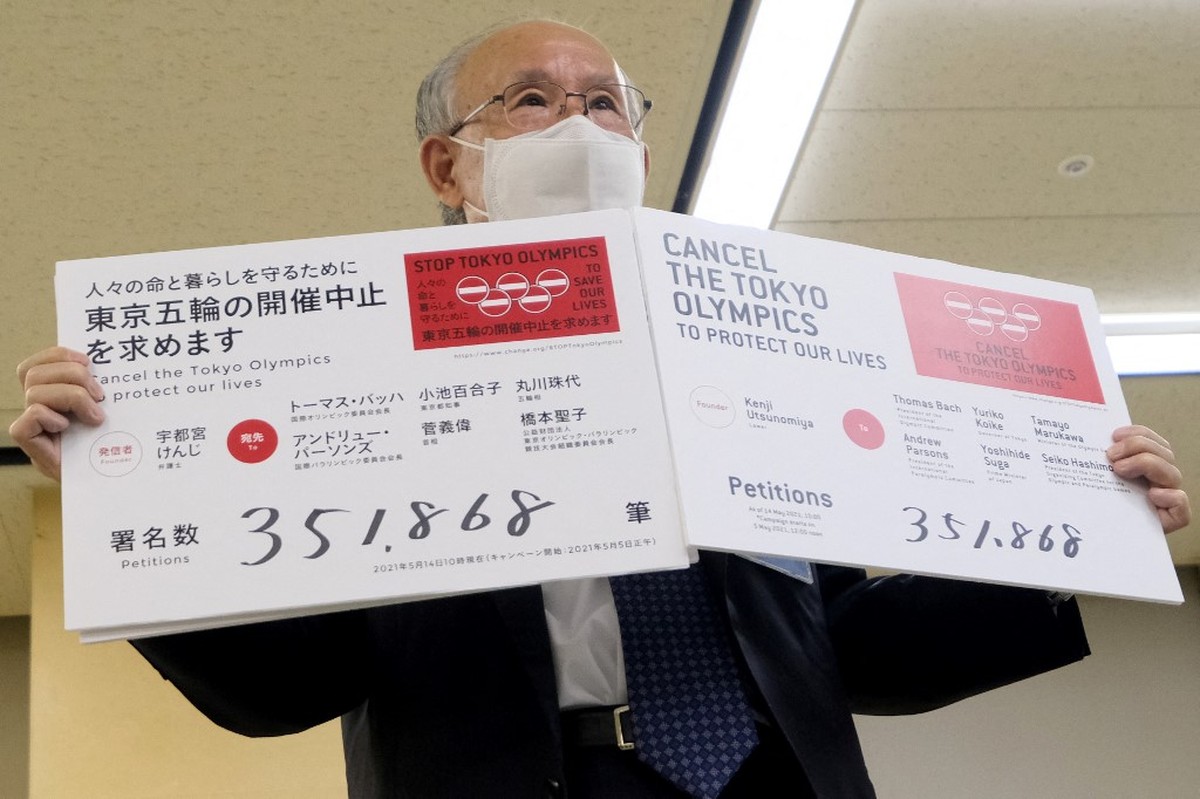 More than 80% of Japanese are against holding the Olympic Games this year, after it was postponed in 2020 due to the Covid-19 pandemic, according to a survey published on Monday (17), just 10 weeks before the event began.
On Friday, the state of emergency is in Japan It was expanded. The country is fighting a fourth wave of novel coronavirus infection. The research was performed after the measure was implemented.
The COB begins to vaccinate the Brazilian delegation that will participate in the Tokyo Games
The increase in cases is straining the country's health system, and sector professionals are repeating warnings about resource shortages and staff exhaustion.
The poll conducted by the newspaper "Asahi Shimbun" over the weekend showed that 43% of respondents want the games to be canceled and 40% support a postponement.
A month ago, 35% supported the cancellation, while 34% supported another delay.
Only 14% of respondents want the Olympics to be held on schedule (July 23 to August 8), compared to 28% in the previous poll.
The Asahi Shimbun conducted telephone interviews with 1,527 people.
3% of Japanese want games with fans
If the games were to be held in the expected period, 59% of respondents would prefer not to attend the audience, while 33% defend the limited number of fans. Only 3% want crowded stadiums and gyms.
Research in recent months has shown that the majority of Japanese are against celebrating the event in the summer (Northern Hemisphere, winter in Brazil).
According to another Kyodo survey, published on Sunday, 59.7% of respondents support the cancellation. The poll did not raise the possibility of delay.
The organizing committee says strict measures to combat the virus, such as regularly subjecting athletes to diagnostic tests and banning the participation of spectators who live abroad, will allow for a safe Olympic Games.
But Kyodo research shows that 87.7% of respondents fear that the arrival of athletes and delegates from many countries may lead to the spread of the virus.
In response to a question about the polls, Japanese chief executive Katsunobu Kato said the government "will make efforts to make the Japanese people understand that the Tokyo Games will be held in a safe manner."
"We need to provide detailed explanations of concrete measures regarding the Coronavirus," the spokesman said, before indicating that the competitions should not increase the pressure on medical services.
Japan has recorded fewer than 11,500 Covid-19 deaths since the start of the pandemic, a much smaller balance than most major countries, but the government is under pressure due to its slow vaccination campaign.
Watch the most viewed videos of the G1
"Proud explorer. Freelance social media expert. Problem solver. Gamer."