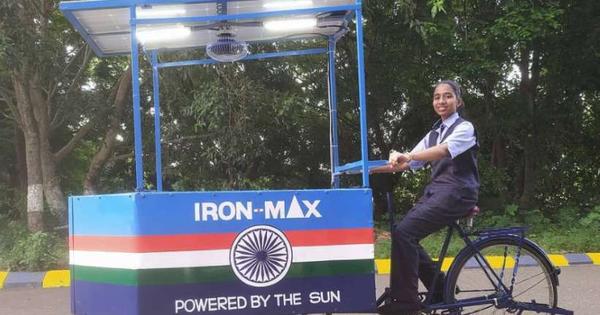 15-year-old Vinisha Umashankar is honored to build a bike with an ironing board with a built-in solar powered iron. The first prototype was built when the teenager was 12 years old, with the help of engineers from India's National Innovation Foundation.
The student was walking in the street when she came across someone who was ironing clothes for a living with an old machine that uses coal and emits a lot of polluted smoke. With this in mind, Vinisha came up with the idea of ​​making the bike with a solar powered compact iron, renewable and 100% clean.
"It got me thinking about how much coal is burning every day, and the damage to the environment," said the 15-year-old NPR.
On November 2, she delivered a speech at COP26, the United Nations Summit on Climate Change, in Glasgow, Scotland. At the event, Venesha stressed the importance of his generation's immediate environmental actions.
"A lot of my generation is frustrated with leaders who have made promises but never kept. We have every reason to be nervous, but I don't have time to be angry. I want to act."
Read also:

Countries Discuss Climate Change Financing at COP26

The girl also highlights: "My generation and I will live to see the consequences of our actions today. You decide whether we will have the opportunity to live in a livable world or not.
"Proud explorer. Freelance social media expert. Problem solver. Gamer."