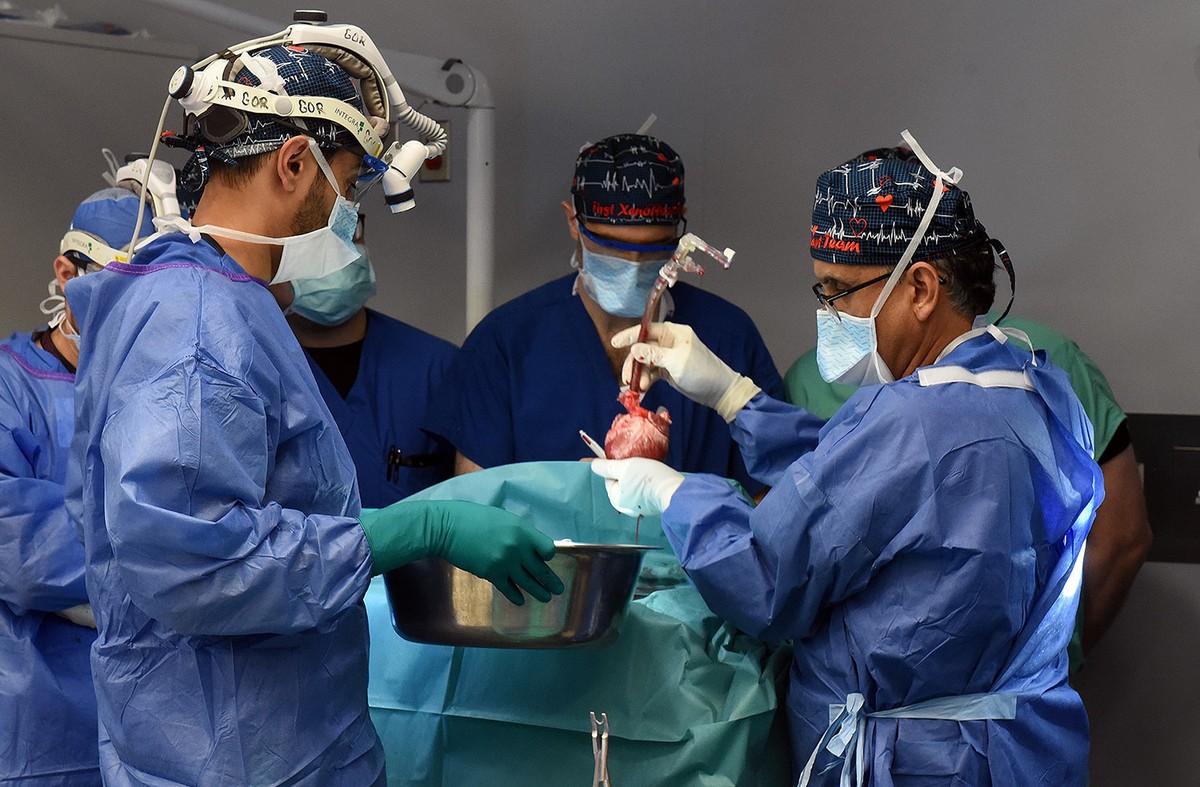 For the second time in history, surgeons have transplanted a pig heart into a man, doctors from the University of Maryland Medical Center in the United States announced on Friday (22), two days after the operation was performed.
The patient, Lawrence Fawcett, is a 58-year-old Navy veteran who had problems other than heart failure. Therefore, he was not eligible for a conventional heart transplant.
"No one knows from this point forward. At least now I have hope and a chance," Fawcett said, in a video the hospital recorded before the operation. "I will fight as hard as I can for every breath I can take."
Although the next few weeks will be critical, doctors were encouraged by the patient's initial response to the genetically modified pig organ.
"We hope he will return home soon to enjoy more time with his wife and the rest of his loving family," Bartley Griffiths, who performed the transplant, said in a statement.
In January 2022, the same team of doctors performed the world's first transplant of a genetically modified pig heart into a human. Patient David Bennett survived for two months.
To make this new attempt on a live patient, researchers in Maryland needed special permission from the US Department of Health and Human Services (FDA). The team claimed that although the first patient died of causes that are not fully understood, doctors have since learned enough to try again.
Fawcett, who retired as a laboratory technician at the National Institutes of Health, had to agree that he understood the risks of the procedure.
"We don't have any expectations other than the hope of spending more time together. It might be as simple as sitting on the porch and having coffee together," said Anne Fawcett, the patient's wife.
Attempts to transplant organs from animals to humans have failed for decades because human immune systems immediately destroy foreign tissue. To make the organs more human-like, scientists genetically modified pigs.
In total, 10 changes were made:
Three genes – responsible for the rapid rejection of pig organs by humans – were "deleted" in the donor pig.
Six human genes responsible for the immune acceptance of pig hearts have been introduced into the genome.
The pig's gene was deleted to prevent the transplanted heart tissue from growing too much.
Moreover, after the first transplant, doctors discovered a virus present in the pig's heart. This allowed them to perform optimal tests on the organ before transplanting it.
"It's an incredible feeling to see this pig's heart working in a human," said Dr. Mohamed Mohieldin, a transplant specialist on the Maryland team. But he warned: "We don't want to predict anything. "We will consider every day as a victory and move forward."
"Friendly zombie guru. Avid pop culture scholar. Freelance travel geek. Wannabe troublemaker. Coffee specialist."